Perfect for Everyday - Office to Fun
---
DEL MAR WATCH COLLECTIONS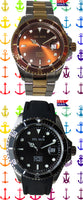 Del Mar Watches celebrates 30 years!
Del Mar Watches proudly presents the Premier Collection, featuring six distinct styles that encompass the latest in horological elegance. Explore the sophistication of our new silicone band, the timeless appeal of stainless-steel bands, and the exquisite fusion of two-tone gold and stainless-steel bands. With over three decades of dedicated watchmaking expertise, Del Mar Watches invites you to embark on a journey marked by precision, craftsmanship, and enduring style. Begin your exploration of timekeeping excellence with Del Mar Watch.
Automatic Self-Winding Watches:
Automatic watches are timepieces that wind themselves if they are worn on the wrist.The movement of the wearer's arm winds the mainspring, storing energy to power the watch.

Our watch has a transparent case back, allowing you to see the movement of the rotor as it spins and winds the watch.
Water Resistance:
A watch's water resistance is measured in meters or atmospheres (ATM). A rating of 100 meters typically means the watch is suitable for swimming and snorkeling but not for deep-sea diving.

It's important to note that water resistance is not a permanent condition and can be affected by factors such as aging gaskets or a damaged crown.
SEE DETAILS
Del Mar Watch Accessories